Mcbride traverse
Posted: April 28, 2014
With a high pressure coming along this week I thought finally posting our Mcbride traverse would help some other parties who are heading out there.
Steve Whithall, Nic butler, Colin bakker and myself set out to do it in 3 days. Guide book says 6-8 so 3 seemed like a good number. If the weather was good, no problem. If the weather was bad, slight problem.
For those of you who don't know the mcbride traverse, it starts on Blackcomb and you do half the spearhead traverse then drop down east and do a big horseshoe traverse to garibaldi lake. all done it's about 70km (give or take)
day 1(april 9):
Nic, Colin and I are late. or i should say i'm late. my back is screwed up, we nearly ran out of gas getting to whistler and I forgot my pass. Steve didn't look impressed when we finally met him at Glacier creek lodge.
The spearhead is pretty easy and well known to us so we cruised along without much thought. With my back hurting I decided to start the tour and make a decision as the day progressed. Being familiar with the spearhead i knew if i had to turn back or bail it would be no problem. But the day went along as planned and my back was manageable so when we got to the naden glacier i decided to keep going on.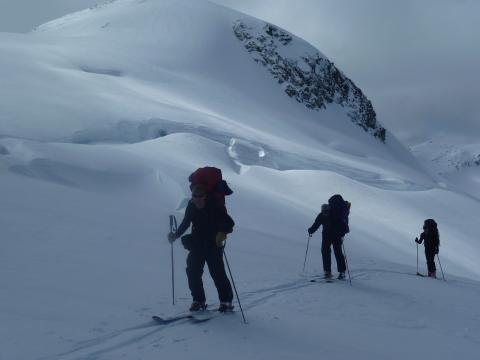 Our mix of sun and clouds had decided to turn into absolute flat light which made the decent down the Naden very slow. Eventually we made it down to Check creek and decided to pitch the tents for the night. We were slightly behind but not too bad. However with the poor light and ominous looking clouds above us, I'd already decided to start rationing food as we might be out an extra day.. thankfully i tend to pack a lot of food, but I like to eat.
Day 2:
Woke up to sun and clouds and looking good. Steve had felt kind of sick the day before but was feeling much better and my back was still manageable so we tore down camp and headed up the actual Mcbride Glacier. This is the first major climb of the trip (in glorious surroundings) and by the time we hit the col of sir richard 1000m higher we would be in a whiteout.
stop. maybe it'll clear.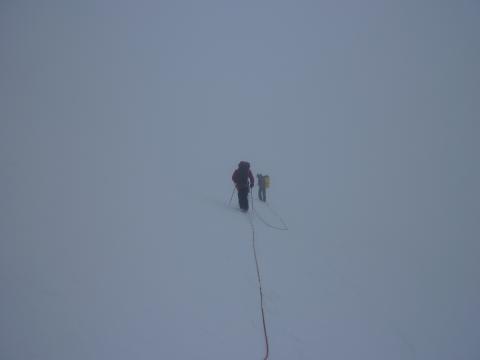 nope. ok, let's rope up and traverse over to wolverine pass in a the whiteout. 2km in almost 3hours later. we popped out of the clouds. The run down to wolverine pass is south facing, so if youre doing this traverse plan accordingly. thankfully for us the day hadn't really had much sun so we just dropped in and enjoyed the soft turns.
Some steep climbing led us up to the snowbowl glacier and a storm cloud heading towards us. With it being after 6pm by this point we decided to pitch the camp in case those clouds had some grunt to them.
Obviously by this point we knew 3 days wasnt going to happen. Thankfully I'd already started rationing my food. 1 little Clif bar shot block every hour was my food highlight for the day. Fuel reserves would be a concern though as the trip progressed. you need fuel to make water..
Day 3: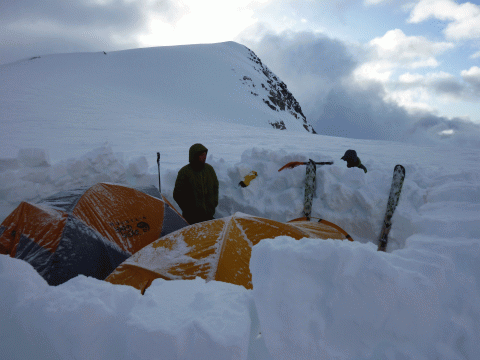 we'd gotten some weather forecasts off spotty cell coverage and thought it would be quite bad today. However it turned out to be decent, so we packed up and headed out. Snowbowl was pretty straigh forward and as we progressed through the day the light got better. We'd heard that the fordger glacier, which was upcoming, was one of the crux portions of the trip but under mostly sunny skies it was pretty easy to pick our way across the crevasses.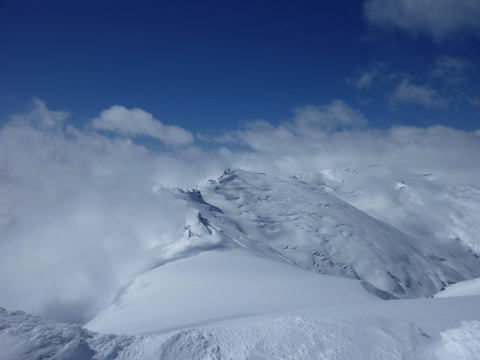 The traverse of fordger was spectacular. nice holes, nice granite spires up on the ridges and good light. was a good time.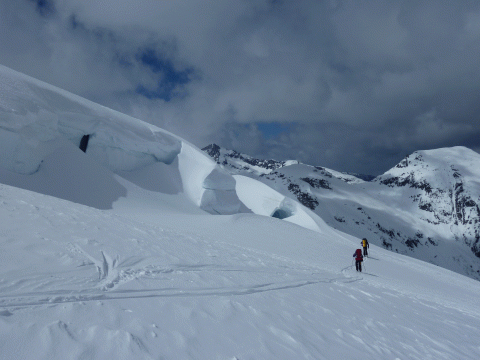 A quick run down to drop pass and back in the fog. really?
sit. wait. let's climb up a bit, maybe it'll get us out of the fog. no.
The climb out of drop pass is rather large, fairly steep and pretty solidly solar. With the fog obscuring our view and it being pretty warm out, there was no way for us to continue. Sit and wait.
The sun! Run! nope. sucker hole. we made it about 100 vertical meters before being forced to seek refuge on a little ledge below some cliffs. Regardless, by this point the snow had gotten too soft to continue. So we waited, and waited. Hoping for the fog to lift or the snow to settle in the afternoon "shade". The fog never lifted and the snow didn't get harder. Time to pitch camp again.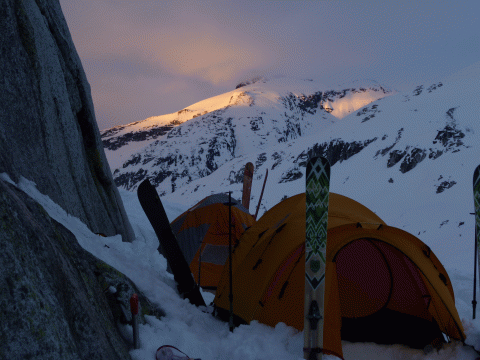 day 4:
Glorious sunshine!!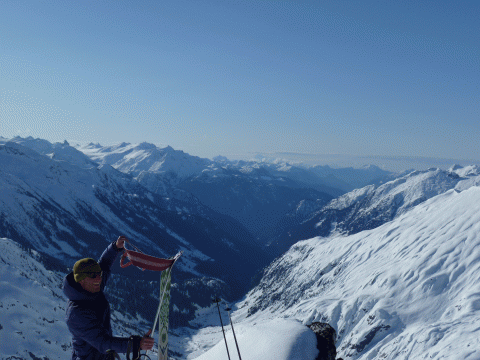 this is the day we were wanting all along. Views for miles and quick travelling. We cramponed (ski or boot depending on who) up from drop pass and made our way towards hour peak. There was a section coming that had been dubbed the 'terror traverse' that we had some concerns about (having not seen it yet). It's a fairly steep traverse under cliffs and cornices and on a big slope that's above cliff bands. but the terror traverse ended up being pretty mellow. However if done in a North-south direction, it could be fun times since you'd be climbing and if it was icy with huge overhanging cornices above... it'd be pretty scary.
The traverse around hour peak is pretty straight forward. a fun solar slopes to watch out for depending on the time of day but for us it was super easy.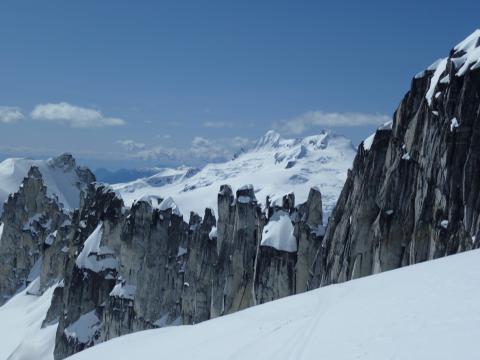 As we made our way to Luxor and the glorious looking crosscut ridge, I noticed that isosceles peak looked way to easy not to climb up on our way by. With the weather slowling our progress we hadn't had time to really get on top of anything. The guys would wait while I ran up it on my own. With the weird winter we had on the coast it felt good to be right on the tippy top of a mountain. I was just going after the best riding line and didn't care much about peaks this winter.
There's a sweet wave/windlip feature to ride under crosscut ridge which made my day. Not that the views and traveling didn't make the day, but i like the downhill riding more than anything else.
We made our way to grey pass and our final big climb of the trip. The north facing glacier looked like the friendliest uphill so off we went. A few hours of straightforward crevasse dodging and we were up top.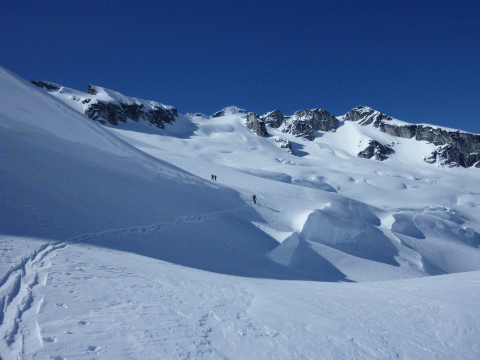 The view down to garibaldi lake was awesome. After some debate about spending the night up high or down by lake, the line down looked to good to wait until morning. A fun 1000m vertical drop of crevasses dodging and pow turns and we were at the lake.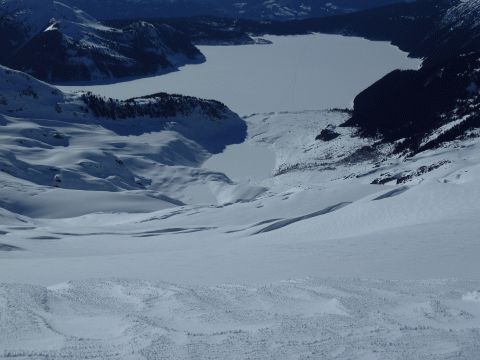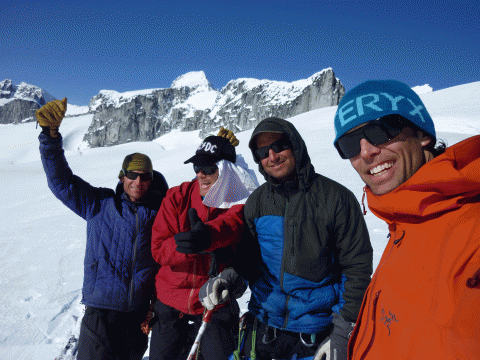 The snow was isothermal down at lake level so we decided to wait until the morning to make use of frozen snow to cross the lake. If you've never crosses this lake, it's quite long and quite boring. All that was left was to rally down the garibaldi lake trail and a few kms of hiking on dirt and we were done.
While it was a bit longer than we intended, the weather really holds the cards when trying to move fast, it was a great trip with the guys. It was great that none of us had done the traverse before and we were the first ones on it during that good(?; decent..) weather spell so we had no tracks to follow. Kind of ruins heading somewhere for the first time when you're following tracks I find. Lots of terrain back there and plenty of lines to head back for. Can't wait for the next time!
if interested there's a whole bunch of photos up on my facebook page...
https://www.facebook.com/media/set/?set=a.573062809475152.1073741832.472546679526766&type=1
gear used:
-arcteryx altra 85 pack
-arcteryx caden jacket and stinger pants and arcteryx layers, gloves etc...
-spark magneto bindings and sabertooth crampons
-clif bars and shot bloks were key to keeping me going on my rationing of food
-32 lashed boots
-g3 full carbon black sheep splitboard and skins (just to try it all out)
-k2 protoype flicklock poles
jl